Hello everyone. I started this thread b/c I had asked about ZT Faa'Iq awhile back and think he's unbelievable and THE ideal Arabian. I wanted to breed a mare to him but since he's in Argentina, for me in the US, that wasn't going to happen.
SO I did the next best thing. I bought a son of ZT Faa'Iq who is out of an Ali Barba mare.
It is my understanding from my research that he is the ONLY intact Straight Egyptian son of ZT Faa'Iq here in the US. I am extremely excited about that!
I got the bloodlines I wanted all mixed into one perfect package.
http://www.allbreedpedigree.com/rafaa+iq
Ruminaja Ali, Jamilll, Magidaa, Bint Magidaa, Hanan, Ali Barba, Alidaar and Alidaarlin, to name a few of my favorites.
His name is Rafaa'Iq.
He is just coming three years old and I have many plans for this boy in the show ring and breeding barn. Although at this time I don't plan to breed him to my mares til 2010.
I do not have professional photo's of him yet but I hope to in the spring when he's shed out his winter coat and grown some more.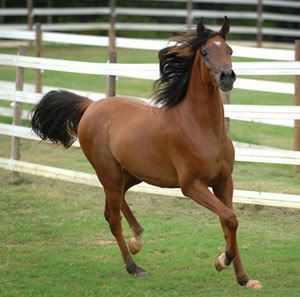 ~ Charity Carlton
Faith Hope Love Stables